Worship
New Sermon Series beginning April 12, 2020

After the events of Holy Week, the disciples were devastated. They were in the midst of full blown grief and disbelief. Into the heart of that grief came a stunning revelation–Life had overcome death. Love had won over violence. God's faithfulness would build them up once again–would bind them together.  Is this possible for our lives?  Yes it is! Come and See!  Live and love!  This is the heart of the matter.
Please join us Sunday Mornings at 10:30 am, beginning April 12
Pastor Sharon
New Sermon Series beginning in March,  2020

Fear is a complex emotion. Sometimes it saves us. More often it robs us of the life we want. But we can take our lives back. This 5-week Sermon Series will be discussing Living with Courage and Hope in Uncertain Times.   Please join us for worship at 10:30 am.
New Sunday Lenten Study begins March 1st, 2020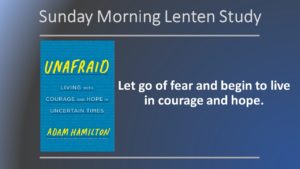 Please join us Sunday Mornings March 1st – April 5th, from 9 – 10 am.
We will be discussing fear, and how it affects our body, mind and spirit.
These discussions are based on Reverend Adam Hamilton's book, "Unafraid".
Order your book now by contacting the Church Office at 314-961-4133, or by signing up in worship on your blue connection card.
Pastor Sharon
Thursday Evening Services, beginning Thursday September 5th – 7:30 pm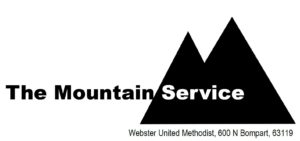 A New Place, For All People
This is a new addition to our church. We invite those who are exploring this thing called faith, as well as life-long worshipers. We are all travelers. This will be a perfect place for people in many different places in their spiritual journey.
What is this service?
A new alternative service, that is focused on community worship. We will celebrate your Race, Ethnicity, Gender, Economic Status, Sexual Orientation, Gender Identity, and Ability, All are welcome here.  Continue Reading…
Pastor Josh