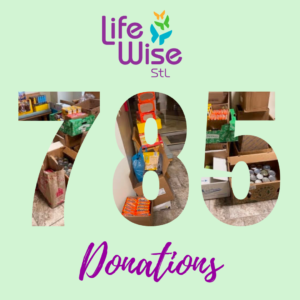 Thank  You for your Donations to LifeWiseSTL.
______________________________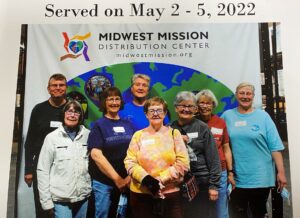 Thanks Again, Volunteers in Mission 2022 Team
 As I look back on the busy month of May, I want to recognize the fine work and loving support our V.I.M. Team both gave and received during the work week at Midwest Missions Distribution Center May 1-5.  During the  week of May 23,  the last shipment of the  48,000 promised Rice Meal packages left MMDC for the Ukraine, so our team  and our church can feel proud that we contributed substantially to that effort.  Our assembly lines were fine-tuned by the end of that week, and there were a few sore backs, legs, and feet, but our team spirit was strong.  One of our team even worked with a still-healing injured wrist, and never complained once!
My sincere thanks, also, to those who wrote kind, affirming notes  to each one of us— we opened them  right after we arrived at our lodging, and they were so meaningful as we carried out our work.  Thank you as well to those of you in this congregation who have given money to  MMDC's Ukraine  Rice Meal commitment.
If you have a chance, I hope you will talk to one or more of our Volunteers about his/her experience and think about reaching out to MMDC by volunteering even for a day in their Chatham , IL facility, or, better yet, think about and  pray about joining our team in May of 2023.
Team members  are pictured adjacent to this article:   Dan Pike, Mary Taylor, JoAnn Claywell,  Linda Guth Stangl, Ellen Hendrickson, Katie Renkins, Pastor Sharon, and Jan McCurley.
Most Sincerely,
Jan McCurley
______________________________
Centenary Church Refresh