Mission Initiatives & Events
While our church building is closed, we are still very active in mission projects
within the United States and around the World.
2021 Mission Projects
March
Food Drive for LifeWise STL in April
Our goal is 800 items (please see the shopping list below)
Beginning April 1, food can be dropped off in the collection basket marked "LIFEWISE" in the elevator lobby
Each Saturday in April there will be a Collection Table set up on the parking lot from 9 am to 6 pm so our neighbors can donate to the collection
We also need volunteers to staff our collection table set up on the parking lot. 
Please sign up to volunteer for one or more shifts by contacting Jan McCurley at janis.mccurley@gmail.com  or call Jan at 314-378-5504
Shift times are 9-12, 12-3, and 3-6 each of the four Saturdays.  
Suggested Donations For LifeWise Grocery Collection are listed below.  Copies are also available outside in the yard box close to the Ted tree. 
Dry Goods
almond butter, canned tomatoes canned tuna cashew butter, cereal
dried beans – black ,pinto– red
 dried lentils
flour, grits, oatmeal, rice – brown or  white
olive oil
pasta – whole wheat, regular
 peanut butter
spices
sugar
Frozen
chicken breasts, fish filets, ground beef,  ground chicken,  ground turkey
Fruits & Vegetables
fresh , frozen
Perishables
almond milk, butter, cheese,  coconut milk, eggs, soy milk, yogurt
Grocery Store Gift Cards
February 
February Diaper Drive for LifeWise STL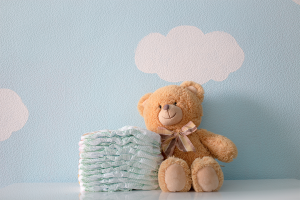 During February, the month of love celebrations,
show your love for our community's underserved children
by donating baby/toddler diapers (any size) and baby wipes to LifeWiseSTL
The most consistent need for, LifeWise STL's daycare and client families, are disposable diapers and wipes 
A "collection bin" will be on our parking lot from 9am to 6pm:
 Mon, Feb. 15
Wed, Feb. 17
Mon, Feb. 22
Wed, Feb. 24
Please tell your friends and neighbors about our drive,
and join them in dropping off your donations on those days.
Drop off your donations on those days at 600 N Bompart Ave, Webster Groves MO 63119
Or
Donate to the "2021 Diaper Drive" on our website under the GIVE button
www.websterunitedmethodist.org
Warm Clothes Donation for, InExcelsis

Fill a full-sized yard bag with warm clothing and blankets and drop them off at the church.
These will be delivered to the clients of InExcelsis.
Or drop off warm clothing at your local Clothing Donation Box
2020 Mission Projects
December
Our church will again be sharing our Christmas offering with others.
This year, we will be splitting the shared portion with two ministries, Room at the Inn, and InExcelsis.
Our relationship with Room at the Inn (RATI) goes back a long time.
Room at the Inn provides immediate, temporary shelter to homeless women and families in the St. Louis region.
In addition, they work with them to create an individualized plan back to self-sufficiency, including counseling services
and referrals to other human service agencies. Then they mentor them to improve their chances for success.
Our relationship with InExcelsis is brand new.
Founded by Severin Pelekara, a member of our church family,
InExcelsis reaches out to the homeless, providing support in the way of meals, clothing, bedding, mentoring, and job skill training.
The ministry also provides spiritual support through Shared Streets, a weekly worship experience that goes to the people.
2020 has been difficult for everyone, but none more so than those living on the streets,
sleeping in cardboard boxes over grates, abandoned buildings, or safe harbors.
When you think about your Christmas offering, please imagine their struggles to keep their children warm,
fed, and safe during a pandemic. It is the kind of stuff of nightmares. Please give generously.
Make your check out Webster United Methodist, and mark Christmas"
in the memo section, or go to the GIVE link in our website to make your gift.
Grace and Peace
Pastor Sharon
November
November 29th
United Methodist Student Day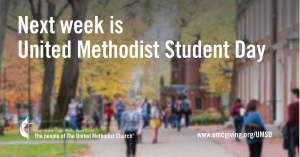 The funds received from the offering go into the United Methodist Student Loan Fund to underwrite scholarships for United Methodist students. 
Currently, there are over 70 scholarships available for United Methodist students. 
The fund is administered by the General Board of Higher Education and Ministry.  Students can apply for scholarships or loans at gbhem.org/loansandscholarships(http://www.gbhem.org/loansandscholarships)
Lord's Acre Fund Raiser for Missions
Remember that the money we raise goes to support our Mozambique covenant church as well as much-needed support for LifeWise STL, Epworth Children and Family Services, Webster-Rock Hill Ministries, and many other mission projects.  The donation weeks are fast approaching, November 8-November 21.  Every person or family who donates something will be entered in the Lord's Acre Grand Prize Drawing for a Christmas-themed quilt suitable for hanging, hand quilted with embroidered designs by the women in our quilting group.
How how the  donation & awards process works:
to make a donation, you may either send in a check to the church made to W.U.M. with Lord's Acre and your chosen award for that level on the memo line OR go to the GIVE on our website & select the button "Lord's Acre Fundraiser for Missions" and write your chosen award for that level in the Note/Memo line. 

Since some giving levels have just one award item (such as some of the handmade items) all persons' names  giving that amount  will go into a hat,  and one name  will be selected .

We welcome you to give any amount you want, whether or not it has an award attached, AND, you may decline an award drawing by writing 'NO AWARD on your memo line
At the present, here are the giving levels for which we have awards:
$40 level, Buckeye Fudge, or Peanut Brittle, homemade by Ellen Hendrickson

$45 level, 3 outfits of doll clothes & mask fit American Girl or any 18" doll, handmade by Sharon Wershing

$60 level, jar of Wild Grape or Cherry Jelly, homemade by Gene Morse (8 available)

$65 level, Winter-themed wool table runner with charming details, handmade by Sharon Wershing

$70 level, Vintage, hand-quilted  patchwork piece suitable for  a table  runner or a wall hanging, finished by the Quilting Group
$75 level, Embroidered pillow and bag, handmade by Sharon Wershing

$100 level, Homemade Pie of choice from Cindy Andrews, Sherry Bryan, or Lettie Morse
$200 level, handcrafted birdhouse by Gene Morse (6 available)

$400 level, Riverlands Sanctuary Vacation Home weekend, gift from Sandra Hoffman (2 available)
Riverland Sanctuary has 3 bedrooms—2 on main floor, 1 with antique double bed, 1 with bunk bed, double on bottom , single on the top , bathroom between the 2 bedrooms ;
1 king size bedroom suite & bath in lower level as well as one or possibly two sofa sleepers in the game room and  smaller tv room.

 We are certainly grateful for any and all donations, but with a limit of 1 award per person/family.
Additionally, you can order dinner from Panera in Webster Groves on Tuesday, Nov. 10, 4-8pm and the restaurant will donate 20% of the pre-tax sales to the Lord's Acre Event.  We plan to take orders for carry out & will deliver them if desired.   
Right now the Webster restaurant dining room is closed for eating in, but they have curbside pickup and rapid pickup as well as delivery for an additional charge.  However, they do expect to have limited seating for dining in by November.
You may call in orders or place online orders, but in either case you will need a promotion code. When you check out online, you will enter the code PRFUND

You may go to  the Panera  at 21 Allen Avenue to order but must bring a copy of the fundraiser flyer OR  show an electronic copy of the flyer to the cashier.  Click HERE for a copy of the electronic Panera Lord's Acre Fund Raiser Flyer.   The Flyer will also be available in our newsletter the week of November 2nd.

If you would like to participate but are unable to pick up the meal yourself, someone on the Mission Team will deliver it to you,  IF you call Jan McCurley at 314-781-3969 with your order no later than Sunday Nov. 8.

Gift cards cannot be used for the event.
Please prayerfully consider how you can be involved in this year's Lord's Acre.  Contact Jan McCurley with questions at 781-3969, 378-5504, or Janis.mccurley@gmail.com
August
Children's School Supply Drive
We will again host a collection in our parking lot, from 11 am-1:00 pm on Mondays and Wednesdays, August 3-13.
Supplies will be shared with the local ministries of Epworth Children and Family Services,  Webster Rock Hill Ministries, and our urban ministry partner, LifeWise, in St. Louis City.
Just drive up to the canopy and persons with gloves and masks will take the supplies out of your backseat or trunk.
Lists of supplies will also be found as a hardcopy in the realtor box in the church front yard 
June
Mondays & Wednesdays from 11:00 am to 1:00 pm – Emergency Food and Hygiene Drive


We are organizing an Emergency Food & Hygiene Drive for Webster-Rock Hill Ministries.
Webster Rock Hill Ministries is a nonprofit organization chartered in 1982 whose mission is "a cooperative effort of member churches to fulfill their commission to serve people in need in our community." The agency "seeks to meet the emergency needs of low income persons in the community and assist people as they seek new options and alternatives in pursuing a higher quality of life.
Here's how you can help.
1.  You can volunteer to be part of a team of 2 people staffing a drop-off donation table in our church parking lot each Monday and Wednesday in June, beginning June 1, 11:00 am to 1:00 pm.  We ask each volunteer to wear a mask.  There will be a supply at the table of disposable gloves, hand sanitizer, disinfectant wipes, and disinfectant spray.  We will store the donations in Fellowship Hall after each day's collection and drop them off at the Webster-Rock Hill Ministries in-take site on selected Fridays in June.
2.  You can donate urgently needed items to our donation site any of those days in June, or place them in Fellowship Hall if you can't make a drop-off day.
Currently the list of needs is the following, but it is subject to change if needs change:
Toilet paper

Hand soap and hand sanitizer

Personal hygiene items (women's sanitary products, diapers, toothpaste, deodorant, etc.)

Canned meats & canned vegetables

Dry food items (beans, rice, cereal, etc.)
For questions or to volunteer please email Jan McCurley Janis.mccurley@gmail.com
Thank You!
March
Sunday – March 29th – United Methodist Committee on Relief (UMCOR)
As the humanitarian relief and development arm of The United Methodist Church, UMCOR assists United Methodists to become involved globally in direct ministry to persons in need.  Some of the current projects include:
Rebuilding communities in Puerto Rico following more than 950 earthquakes and aftershocks since 2019.
Relief Kit Distribution in 2019 of:  cleaning kits (25,493), hygiene kits (71,824), and school kits (19,348). Kits were distributed from Texas to Pennsylvania and worth over $3,000,000.
UMCOR partners with Muslim Aid/UK in Bangladesh to strengthen the resiliency of communities that face annual flooding.
All gifts made on UMCOR Sunday fund UMCOR's administrative costs, ensuring that 100% of additional gifts remain designated for specific disasters. Your generosity helps UMCOR be generous to others in need, whenever and wherever it is needed most.
For additional information on UMCOR, Continue Reading =>
2019 Mission Projects
November
Friday – November 29th – Room at the Inn

Room at the Inn is a temporary, emergency shelter for homeless women and families, regardless of the age or gender of the children. In addition, "Room at the Inn" works with the guests to create an individualized plan back to self-sufficiency, including referrals to other human services agencies. They also mentor guests to improve their chances for success.
Friday November 29th, Webster United Methodist will host homeless families from the St. Louis area from 4:00 pm to 8:00 am Saturday . Volunteers are needed to assist with transportation, meals, and general duties of hosting.
Contact Joan Ballam: jmballam@gmail.com
Continue reading for Room at the Inn "Weekly Updates"
Learn more about Room at the Inn
Room at the Inn provides:
Safe, clean, immediate housing
Lunch and snacks
Case management, to help clients identify and correct the causes of their homelessness
Physical and mental health evaluations
Substance abuse evaluations and counseling
Domestic abuse counseling
Goal setting assistance
Referrals to more than 50 outside agencies
Life-skills classes, including financial management, parenting and job skills
Childcare
Individual and group counseling for children, provided by Catholic Family Services.
While staying at Room at the Inn, children are able to continue attending their own school, providing some continuity in their lives. Transportation to and from the school is provided.
October
Reading Tutors – Hodgen Elementary School
We are four weeks into our program of tutoring students at Hodgen Elementary School.  And have seen exciting and rewarding progress with our students.
Tutoring sessions occur on Tuesday, Wednesday and Thursday afternoons. Each session of 30 minutes allows each tutor to work with 2 students over a 1-hour period. Training and tutoring materials are provided.
We are still looking for volunteers to be substitutes.  Sign-up through the Connection Card or by contacting Joan Ballam at jmballam@gmail.com.
December (date not yet set) – LifeWise STL
A team of volunteers will assist families with holiday shopping at the LifeWise STL Holiday Market.
Please contact Jan McCurley,
Risk-Taking Mission Chair, for more information.
janis.mccurley@gmail.com
Past Events:
July
Sunday – July 28th – School Supply Drive
Donate school supplies for Teens and Elementary Youth to support Epworth Children and Family Services,
LifeWise STL (formerly Kingdom House) and Webster-Rockhill Ministries.  Last day to donate is Sunday July 28th.  For a Complete list of School Supplies, Continue Reading ==>
August
Saturday, August 10th – Backpacks & School Supplies

Our Hands in Mission event will help families shop for school supplies . We need ten Volunteers to work the morning shift from 8:30 am until 12:30 and we'll meet in the church parking lot at 8 am.  Adults 18+ and older will serve as Personal  Shoppers by being paired with participating LifeWise STL (formerly Kingdom House) family members. We also welcome families with younger children to participate , and they will be working together with their own family member(s ) at the shoe station, helping LifeWise STL families choose school shoes.
This is a fun opportunity to get to know the families served by LifeWise STL and is a great opportunity for someone who likes to meet new people. Please sign up on the Connection Card found in the next few Sunday bulletins.  For questions, please contact Jan McCurley, 314-781-3969 or at Janis.mccurley@gmail.com.
Learn more about LifeWise STL
Friday – August 30 – Room at the Inn


Room at the Inn is a temporary, emergency shelter for homeless women and families, regardless of the age or gender of the children. Friday May 31st, Webster United Methodist will host homeless families from the St. Louis area. Volunteers are needed to assist with transportation, meals, and general duties of hosting.
Contact Joan Ballam: jmballam@gmail.com
Learn more about Room at the Inn
September
Saturday – September 28th – Deer Creek Clean-up & Lunch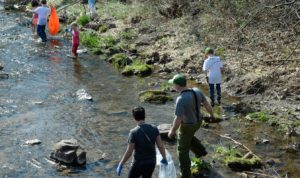 From 8:00 to 11:30 am, families and/or individuals of all ages will work with our Boy Scout Troop 303 cleaning up Deer Creek.
Our leader will divide people into groups and then assign each an area. Following the cleanup we will gather back at church for a light lunch.  Everyone, young and old are welcome to clean up our local environment.  For more information contact Jan McCurley at janis.mccurley@gmail.com
October
Sunday,  October 13th – Rice Meal Kits for Humanitarian Aid
Rice Meal Kit
Volunteers from our community are needed to package Rice Meal Kits for Humanitarian Aid for Developing Countries in Latin American and the Caribbean through Midwest Mission.  Each Rice Meal Kit contains  rice, protein powder, dehydrated vegetables and soy.  A $1.00 value feeds one meal to 6 people.  Our goal is to package 500 Rice Meal Kits, which will provide 3,000 meals.  Meet at Webster United Methodist, (600 N Bompart Ave. 63119) at 11:45 am
Midwest Mission has been showing God's Love in practical ways through the distribution of education, health, micro-business, and disaster relief supplies. They have been meeting basic human needs around the world and around the corner since 2000.
All Rice Meal Kits are sent to
Food for the Poor
who covers 17 different Latin and Caribbean Countries.  Last year Midwest Mission sent out 9,141 Rice Meals Kits (54,846 meals) with Food for the Poor. So far this year they have sent out 4,930 Rice Meals in preparation for Hurricane Season.